Gypsum is a soft white mineral used as the Level 2 hardness example on the
Mohs Scale.
Desert roses
are a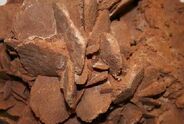 brown variety of gypsum mixed with
barite
.. Some white gypsum is transparent. The name gypsum comes from the Ancient Greek word
gypsos
, meaning "plaster". Crystalline gypsum is called
selenite
. It is a common mineral often found in sedimentary rocks.